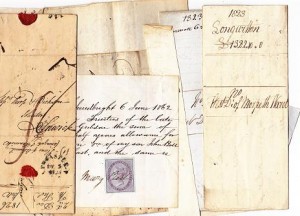 A small collection of MSS relating to the name of BELL:
1 Receipt for money paid towards County Rates, Police Money, Bridge Money and a voluntary contribution for Dumfries and Galloway Infirmary. Signed by Robert Gribdae. Heading in MS 'William Bells Trustees paid W H & D McLelland', for the parish of Berwick. 19th century.
2 Receipt for £80 received from the trustees of the late William Bell esquire of Gribdae (Scotland). Dated 6th June 1862 and signed by Mary Bell over a Victorian one penny revenue stamp.
3 As above, but for £50. The money being a half year's allowance 'for the maintenance, education etc of my son John Bell…'.
4 Letter by James Bell of Warkworth, Northumberland to Thomas Adams, solicitor, acting for the Duke of Northumberland. Dated 8th November 1775. Approximately half of the seal is attached.
5 Letter by Thomas Bell to Messrs Thorp and Dickson, solicitors to the Duke of Northumberland. It appears Bell was surveyor of lands in and around Alnwick, Northumberland. 2 pp with text. Dated 2nd December 1826. Several postal history markings including Newcastle town stamp. An armorial seal, in two parts, is attached, the impression being partially indistinct.
6 A schedule of a rate for the township of Ellingham, in Northumberland, in which Thomas Bell was assessed for rent and tythe. Dated 1823.
7 Rentals of the township of Benwell, in which Robert Bell had been assessed, but his name was scored out. Dated 1823.
8 Rental of the township of Longwitton, in which John Bell was assessed. Dated 1824.
PRICE: SOLD