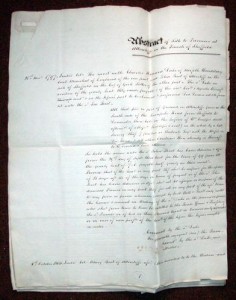 On 9 pages of paper, c 32 x 41 cms, the last two pages almost torn in half. An abstract of title to premises in Attercliffe in the parish of Sheffield, in the county of Yorkshire.
The abstract commences with a title deed of 1797 made between Charles Howard, Duke of Norfolk, hereditary Earl Marshal of England, and John Best of Attercliffe, potter, and relates to a piece of ground on Attercliffe Green, then late in the possession of Thomas Crapper, deceased, together with the house thereon erected. The property continues through various families, including Eyre, Brewer and Haslehurst. The last deed recorded is dated in 1818. A great deal of information is contained in this document.
I don't know whether the Thomas Crapper mentioned is of the same family as those Crappers who founded the company manufacturing cysterns etc., but they did hail from the Sheffield area.
PRICE: £20.00, including packing and postage.