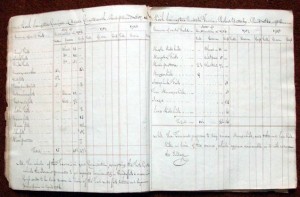 Manuscript Book: "Particulars on a View of Kirk Levington and High Worral Estates, belonging to Andrew Robinson Bowes Esquire and the Countess of Strathmore, taken the 3rd day of June 1786".
Listed first, for Kirk Levington, are names of tenants and the total rents paid. Under each tenant, in four columns, two of which have been used, are given the names of the fields they farm, and whether these are fallow, put to corn or to grass. At the end of each entry are notes relating to the tenants and their holding. For example, David Coatsworth pays a total of £87.10.0 and it is noted that "the whole of this farm is in good condition, excepting the hold gates which the tenant promised to get repaired immediately. Winds Fields sown with grass seeds to be laid down in lieu of the Foot Road Field taken out by permission in April 1786". Finally, there is one page devoted to total rents collected in the township of Kirk Levington, listing the names of the farms, their tenants, total rent as also total acreages put down to corn, grass or left fallow. The whole of the above is then repeated for the High Worral estate. This is a very informative document.
On paper, bound in paper, 30 pages, 27 with text, c 20 x 23 cms, a small tear in the first 4 pages in upper left hand margin, with the cover somewhat creased, dirty and frayed along its margins. The interior content is in good condition.
PRICE:  SOLD